Bill Gates recalls that the deadliest animals in the world are still in the field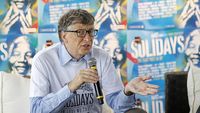 Jakarta –
Everyone around the world is focusing their attention on COVID-19. It's just that Bill Gates recalled that the deadliest animal in the world is still wandering in the midst of this pandemic.
The animal comes out biting every night, infecting millions of people and the resulting disease kills a child every minute of every day. The animal in question is the malaria mosquito.
"Mosquitoes don't practice social distancing. They don't even wear masks. As COVID-19 spreads around the world, it's important to remember that the world's deadliest animal didn't stop during this pandemic," Gates said. .
Most malaria mosquito deaths occur in the poorest countries with the weakest health systems. They are currently facing the added burden of stopping the Corona virus. And in many of these countries, COVID-19 cases are likely to peak at the worst time, which is the peak season for malaria transmission.
"During the 2014 Ebola outbreak in West Africa, endemic diseases such as malaria, tuberculosis and HIV / AIDS caused more deaths than Ebola as the outbreak disrupted local health systems. Health officials fear that the same can happen with COVID-19, "Gates said. .
Implementing blockades and social distancing has effectively prevented the spread of the Corona epidemic, but on the other hand has made it difficult for health workers to provide malaria prevention and treatment in many parts of Africa. Other implications are the disruption of the supply of essential malaria tools such as mosquito nets, antimalarial drugs and rapid diagnostic tests which have helped to cut malaria deaths by more than half since 2000.
"A new analysis of models from the World Health Organization (WHO) finds that if malaria prevention and treatment services are severely disrupted by the pandemic, deaths from malaria in sub-Saharan Africa will reach a death rate never seen since. 2000. In that year, an estimated 764,000 people died of malaria in Africa, mostly children, "Microsoft founder explained.
Gates said there was no choice between saving lives from COVID-19 over malaria. The world must allow these countries to do both. Health officials must urgently address the challenges of pandemic control, while ensuring that malaria, as well as other diseases such as HIV and tuberculosis, are not neglected.
Watch a video "Bill Gates opens his voice on creating a corona vaccine"
[Gambas:Video 20detik]