During the pandemic, many Shopee users shop online overnight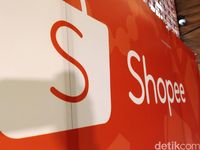 Jakarta –
During this pandemic, online shopping activities on Shopee rapidly increasing. Shopee Indonesia director Christin Djuarto said there was an increase in overnight transactions during the pandemic.
"We see that the peak of transactions has changed a bit since this pandemic, we have seen greater increases at night than on normal days. We also see that the peak of traffic starting at 8 am has increased," Christin said in a press conference. Shopee 9.9 Super Shopping Day which aired live on YouTube, Tuesday (8/18/2020).
He also added that, based on research from iPrice and other electronic sources, shopping traffic in the middle of the night at the time of Ramadan increased during this pandemic from the previous year.
He feels this trend will continue in the program Shopee 9.9 Super Shopping Day this year. So his group decided to offer a late night sale of IDR 99 in the Shopee 9.9 Super Shopping Day program that starts today.
"We are offering promotions for Late Night Sale Rp. 99 starting at 8pm until midnight of course," he said.
Online shopping trends during the pandemic are also changing. At the start of the pandemic, for example, Christin said the sales Shopee more aimed at everyday products. A few months later, during Ramadan, the trend shifted to Muslim fashion products.
"This pandemic has been nearly 6 months, so it has been quite a long time. At first we saw that everything was centered around household activities, then it was reset into the sales trend where daily needs were soaring in the beginning. . A few months later we enter the phase of the month of Ramadan, where we see a change in sales to Muslim fashion which is usually higher, the daily needs are still high but we also switch to Muslim fashion ", he explained.
(prf / fay)